16th 2006f October, 2006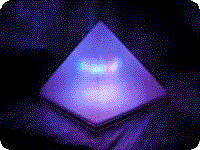 Toon Beerten sent us this wonderful DIY mood lamp.
On this page i will explain how i created my own colour changing lamp with red, green and blue leds that fades between all colours of the rainbow. It really comes out well at night when other light are dimmed. In daylight conditions the colors aren't noticed well. Although it's low budget i must say the result is nice.
Link: RGB Mood Lamp
18th 2006f April, 2006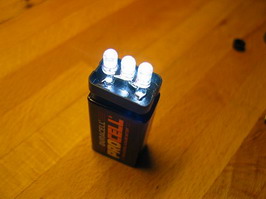 P.O. got so excited by all the responses from the TicTac flashlight project that he sent us another of his creations.
This time it's a LED lamp created from the scraps of an old 9v battery and three LED's. No need to use a resistor here as he's used three 3.5v LED's which adds up to a required voltage of 10.5v… which the battery can't supply.
The benefit of this is that you don't have any losses in a resistor and the battery will end up lasting longer – but the LED's will not operate on 100%.

Take it or leave it, this is a great project that involves few components and has a compact and robust design.
11th 2006f April, 2006

P.O. sent us this how-to on building a very handy flashlight out of a old TicTac mint box. It consists of a empty TicTac box (duh!), three batteries (that fits perfect), a small switch, a resistor and a bright LED.
It might not take a rocket scientist to figure out how to connect it all, but still…

Go to the TicTac flashlight page.
10th 2005f October, 2005

Leah Buechley (on the picture) has got it right!! She combined programming, with soldering and sewing! Now that's what diy is all about.

In a 7 page article she will show you from a-z how she put together a 'wearable led display', perfect for club hopping! ( Or maybe… NOT! ) The purpose of the whole display is to show off the 'Game of life' which is a mathematical simulation of life. You can read more about the game of life here.

The project contains a lot of good close ups on her work in progress, and even a short movie where you can see the simulation running. I only wished that she would dance a bit at the same time.

But for now – read about her project in it's full glory!!
9th 2005f June, 2005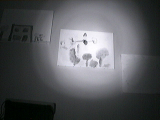 In our previous night webcam project we got it running – now it's time to make it work at lot better. We have a look at different IR LED's and angles and see what works best.

Link: Webcam in the dark – part 2
8th 2005f June, 2005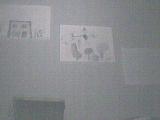 Have you ever been using a webcam in a room with low light? Or have you ever wanted to have a webcam monitoring your dog, driveway or baby? Well, I have – both. Using a webcam in a room with low light usually works bad, and in most cases it doesn't work at all. You can get around the problem in low light by using a webcam with high sensitivity, like the Philips PCVC740k or PCVC840k (they're actually the same inside!). It has a sensitivity of 1 lux which is very little light, and it can be compared to the light from one candle.

Link: Webcam in the dark
19 queries. 0.086 seconds
print_pg_navigation() ?> Home
---