| | |
| --- | --- |
| Make your own wearable LED display | |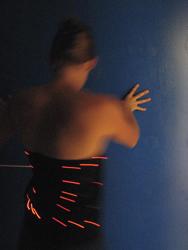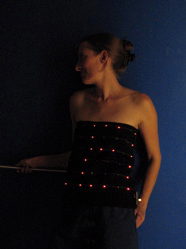 Click on an image for a movie of the shirt animating the Game of Life (1.7 MB).
Click here for more information about the shirt I made.
what you will need
conductive thread
(You can purchase spun stainless steel thread from Lame Lifesaver. Check out my materials link page for more information on conductive threads.)
surface mount LEDs, as many as you want to include in your display
(I used a super intensity red LED from digikey. part #: 67-1695-1-ND )
a microcontroller of your choice.
(Chose one with an internal oscillator. I used the AVRmega16. digikey part #: ATMEGA16L-8PC-ND)
an IC socket for your microcontroller.
(You want be able to sew through the socket's holes after minimal modifications. For a 40 pin micorcontroller, digikey part #: A9440-ND will work after you drill out the holes. I found the perfect socket, one that required no drilling, browsing my local electroics store, so try that first.)
a battery and holder.
(I used a standard 6 volt camera battery. part#: A544.
You can purchase the holder for this battery from digikey part #: 108KK-ND)
an on/off switch
(Check out these slide switches and toggle switches from digikey.)

a 30 watt soldering iron and lead-free solder
(You're going to wear this so keep health hazards like lead in mind!)
a multimeter
a T-square or a ruler
an assortment of silver and brass crimping beads, at least twice as many as you have LEDs
(These are available from your local bead shop, or from Michaels)
a garment or a piece of fabric and a pattern you can use to make your own garment.
a needle or two, a fabric marker, and a bottle of fabric glue
(Needles, fabric markers, and Liquid Stitch, Sew-No-More, and similar products are available at your local fabric shop or Joann Stores)
a pair of scissors
a sewing machine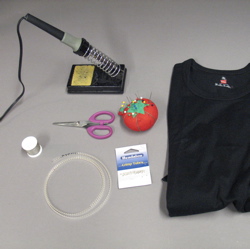 Some of the supplies you'll need.