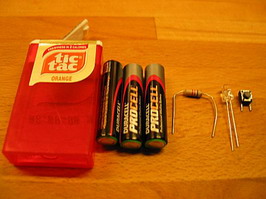 A disposable torch with long life (I hope I don't invent the wheel once more) I bought 'tic-tac' mint candy and found out that this package must be ideal for 3 AAA batteries to make a small torch (or lamp) with.
Yes the batteries fitted perfect - I soldered them in series and used a small micro switch from an old circuit-board together with an ultra bright white LED (25.000 mcd - 3,8 volt and 20 mA - 35 degrees) and a serial resistor of 27 ohm (to make it 3,8 Volt).
I drilled a 5 mm hole for the LED and a 3 mm for the micro switch. Then I glued all together - and now I have a nice, small, very bright torch - I think the batteries will last longer than 'best before date'.
Hälsningar från P.O. i Malmö
---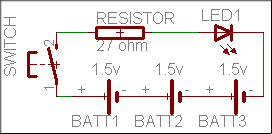 Schematics
On popular demand, here are the schematics.
BATT 1-3 are the batteries. Three AAA 1.5v.
RESISTOR is a 27Ω Resistor.
SWITCH is a …switch.
LED1 is the high power led. This is the only component that might need some explaining. When mounting the LED then make sure that the short leg is connected to - on the battery. If you connect it the other way around then it won't work. If you already chopped off the legs on the LED then you can look for a phased edge on the bottom of the plastic of the LED. That also marks -.