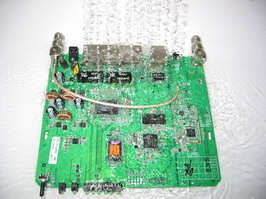 Cleaning
No matter if you have a keyboard with coffee or a laptop with coke, you can always clean it. Well, sometimes it doesn't work but you've got nothing to loose, right? What I'm going to do here goes against all current laws about static electricity protection (ESD) and other things that you're not supposed to do with your electronics devices.
1. Disconnect your device as soon as you realize that the liquid is inside it. Normally it just stops working but you might get electric shocks or it might explode or it might break if you leave it connected.
2. Take the device apart. Every box has its own way of being disassembled but don't use too much force and if you can't get it apart then there's usually some hidden screws under a label or a foot.
3. If the substance is already dry, as it was for me, then use your wife's toothbrush (you don't want to use your own, right?) to brush off as much as possible. Remember not to brush to hard as you might damage components.
4. Rinse the PCB (Printed Circuit Board) under the shower. If you have one of those showers with high pressure or a massage handle then use that as the pressure will help getting the substance off. You can also brush with the toothbrush (your wife's) now when it's wet and you should get most of it off.
Note! Even though most components handle water well, you should watch it with buttons (like my reset button in the back) and other parts that are supposed to move (like a processor fan) as if you get water into this you won't be able to get it out. If you get water into a fan you'll most probably also damage the lubricant for the ball bearing. Then again – what do you have to loose?
5. Use kitchen paper (not toilet paper as the fibres are way to show and it falls apart when wet) to carefully dry off all the water. Don't rub but simply put the paper over the wet spots and apply a little bit off pressure so that it will suck up the water.