Build a Skype phone

..or how to make use of
that old wireless phone just laying around.

Last update: 2005-05-29
by Christoffer Järnåker

Slashdotted on 2005-05-28
All pictures are clickable

for a full resolution picture
Cost $0.
Material used: one wireless phone, and one 3.5mm to 3.5mm plug (cut in half).
Tools used: screwdriver, knife, soldering iron.


So, the problem. You have a computer, your friend has a computer, you both have a broadband connection, and you make use of Skype or like the voice chat in MSN or something like this – And – you're sick and tired to sit by the computer all the time when you talk. And you might even sit with one of these ridiculous headset (hmm, yes I also have one) on your head just because the echo cancellation feature isn't that great in reality.
So, the solution. A year ago or so I tried to connect a professional headset from Plantronics to my computer just because they're so damn good and fit perfect. Well, I did get it to work after having a couple of boxes in-between the computer and the headset, but I was still tied to the computer. Now, I've seen some other devices around that basically give you an handset to connect to the USB port and then you can use that. Well, you're still tied to the computer huh? No fun. Then I read in a local magazine (Veronica magazine here in the Netherlands) about Siemens making a DECT USB adapter so that you can connect your DECT phone to the computer – and I though Wow! that's what I need. Well, €119 for another toy that I'll use like not that often? I don't think so. But hey, I have an old Siemens Gigaset 3010 phone laying around that my children play with ('cause the 2 key was a bit broken), I wonder if I can use that one? So I did.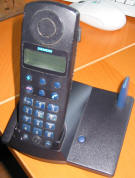 The victim
On the next page we'll continue with the actual process of converting the phone
Free conferance call, Internet telephony with Skype, Skype, , chatcord, VoIP,Voice over IP, save, new, cordless, Free phone calls, chat-cord, IP Phone, Skype compatible, free voip, dualphone,rapidbox skype adaptor voip voice over ip,Go wireless with Olympia Cordless DUALphone, CyberPhone,skype usb phone rj11 adapter, cordless dualphone, FWD, Skype, Xten, Yahoo, Stanaphone,
TerraCall pc mac laptop