Building a WallTop.
..or How to make use of that old laptop!
..or How to put a laptop inside a regular frame and hang it on the wall!!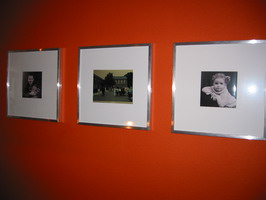 Welcome to my guide on how to convert a laptop into a walltop (that is what is hanging in the middle frame). First, let's clear out the expression walltop. It's comes simply from a laptop that is mounted on a wall instead of being 'mounted' on your lap. In general it could be a laptop just screwed into the wall, but it could also be a laptop converted into something else like a being mounted inside a regular picture frame. And that is exactly what I did.
Starting in the right end of the story, how did I come up with this? Well, I've had an old Dell Latitude CSx (500Mhz 128Mb) that just refused to work on IDE0.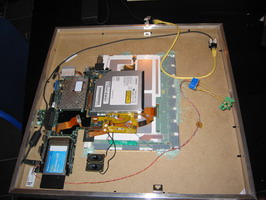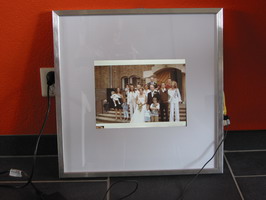 Meaning that using it with an hard drive was out of the question, but the rest was working fine. So, I had this laptop booting on a CD with XPE (Windows XP Preboot Environment) made with BartPE to provide me with the log files from my servers. That was basically it. But it soon took up too much space on my desk and ended up in a corner where it was never used or looked at. But hey – why not take this old laptop, break it down to it's pieces, mount it into a frame and hang it in the living room showing a slideshow?? It's definitely silent as it doesn't have an hard drive. Well, first I was sceptical myself. Power cable and network cable would be difficult to hide, and drilling an hole into my neighbours living room wouldn't solve anything. Hmm, but let's go wireless and replace the original power cable with an thin cable in the same colour as the wall!!
So I did.
On the next page we'll have a look at the software. Not that exiting, but we can't really do without it.
Digital Picture frame. Second hand laptop. Touch screen, lcd frame. Modern art! eBay. geek, seconhand, used, cheap. Flat panel. LCD Monitor. Plasma
The software. To start with, before I took my laptop into the land of no return, I wanted to see if it worked at all to boot my laptop on cd, find and configure the network card, map a network drive, and start the slide show. BartPE that I used works fine out of the box so to speak. It's a free package and you only need to add Windows XP sp2 and any network drivers you might need. The network drivers proved to be the biggest problem to me, as I was using a 3com CRWE777A pc card, which is actually a PCI card with an pc card adapter. I did have some oem Prism2 drivers to the pc card that I've managed to use previously with another laptop, but then I had the choice of forcing windows to use these drivers and windows insisted on using the 3com drivers (which of course only worked in conjunction with the PCI card). But by changing the device ID inside the .inf file solved this and XPE found the card. I also managed to put in the wireless SID and WEP code inside the .inf so the card defaults to my network as soon as it's started.

The next part was to map it to the network, and I took the easy way out and edited the autorun file in the penetcfg plug-in and appended these lines. (Sorry Bart, I know this is not the way it should be done..)
echo Map to Z: server
net use z: \server\bartpe /user:mydomain\myuser mypassword
z:
call launch.cmd
It maps the drive and then tries to start the launch script that is on my server. And this makes it very very flexible. If I'd like my walltop to display let's say the stock exchange and weather instead, then it's just up to me to adjust the script accordingly. As it is on the server, the only thing I'll need to do is to change the script and restart my walltop.
Right now I have the launch script change the screen resolution ( x:\Programs\Nu2Menu\setres.exe h1024 v768 ), then kill the start button ( pskill nu2menu.exe ) and then start the slide show ( \slide\slide.exe ). The slideshow has been made with IrfanView which is a freeware picture viewer.
Now to the fun part! Let's disassemble the laptop! That is… on the next page.
Digital Picture frame. Second hand laptop. Touch screen, lcd frame. Modern art! eBay. geek, seconhand, used, cheap. Flat panel. LCD Monitor. Plasma
The dissassembling of the laptop. When taking a laptop apart there are a couple of things you need to keep in mind. (A) It might break… (B) A laptop is not made to be taken apart by noone else then the service engineer. (C) The screen contains a high voltage part which might be dangerous if powered up. (D) The screen is very sensitive so be very careful when dissassembling it.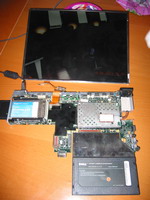 Take the laptop apart so that it's as naked as it can be. Why? We need to squeeze it in behind a piece of glass and only have 14mm for screen, motherboard and cd! That's why. When all parts are taken apart then it's a good idea to connect the pieces to see if it's still working. I mean – what if it broke at this stage and then you complete the whole thing and after that you figured it out. Duh! After mounting it together, without keyboard and touchpad (which I wouldn't use), I got a nice POST error. Configuration lost, press F1 to continue! Whattaheck!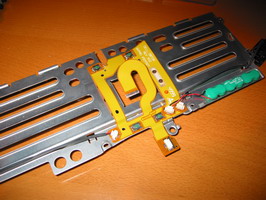 But after looking around on the touchpad I found a small battery pack, and that explained it. So it was clear that I would have to include the touchpad print layout on my walltop to avoid this in the future. Removing it was a bit tricky and nervous. The print layout was glued to the steel frame, and I had to remove it by carefully using an razor blade between the them to get it separated. I tried first to just pull but the glue is really strong and I would just end up with a broken layout.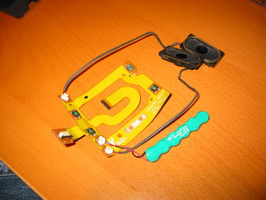 After mounting the loose touchpad without touchpad everything started up as it should. After all, having it there might come in handy later as it has the mouse buttons and the speakers.
The next page is about the preparation of the frame. Again… not that exiting – but it has to be done.
Digital Picture frame. Second hand laptop. Touch screen, lcd frame. Modern art! eBay. geek, seconhand, used, cheap. Flat panel. LCD Monitor. Plasma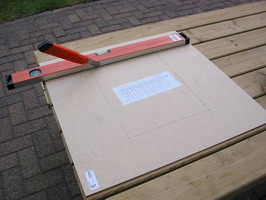 Preparing the frame. I choose Ribba (€20) from IKEA as this is the kind of frame that we use in our living room. Measuring the size of the LCD (H*W) and the size of the backplane (h*w) I could calculate where exactly to make the hole for it. ( h/2 – H/2 = the distance from top and bottom where the hole should start ) and ( w/2 – W/2 = the distance from left and right that the hole should start ). After making some nice lines on the backboard I used an straight piece of metal and a Stanley knife and starting cutting. And cutting. And cutting.
Let's get busy mounting the LCD display and the motherboard – on the next page
Digital Picture frame. Second hand laptop. Touch screen, lcd frame. Modern art! eBay. geek, seconhand, used, cheap. Flat panel. LCD Monitor. Plasma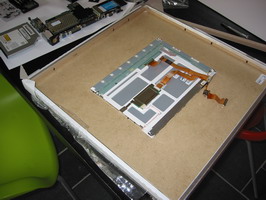 Mounting the LCD. The drawback of not owning a a Dremel is using a knife to cut in wood… Slowly but surely I managed to get a hole out and started to fit the LCD. After a little bit of adjusting the hole, especially for the cables in the lower
left corner on the picture, I got it to slide in nicely. When you do this then make sure that you don't create any tension in the screen. It should have a perfect fit, and plop into the frame without force. I mounted four screws on the sides to prevent the screen to go to far in, and to later on apply glue here.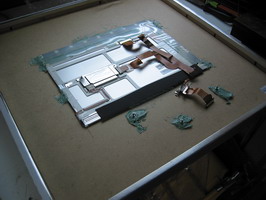 Mounting the motherboard. Now it came down to applying some glue to fix the LCD as well as have something to mount the motherboard on. By using the nuts that held the com and printer ports at the back, I attached them on the motherboard and marked their location on the backplane. Then I made a small puddle of epoxy based glue on each of these locations and put down the motherboard again to let it dry. A note is on it's place here. The puddle of glue should be as high as possible, but not to high so that it touches the motherboard. We don't want it permanently glued huh? And also make sure that you actually want the motherboard where you've placed it, having enough room for any cables (power, USB, whatever).
On the next page we'll connect everything and see how we solve the power button problem.
Digital Picture frame. Second hand laptop. Touch screen, lcd frame. Modern art! eBay. geek, seconhand, used, cheap. Flat panel. LCD Monitor. Plasma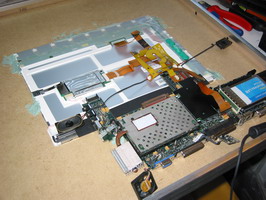 Now it's time for testing again. Everything mounted, I nervously pressed the power button. And – it still worked, part from that the walltop didn't boot. Duh, no cd player yet.

Oh, and yes, that power button. It's located between the pc card and the power plug. Not very handy when it's hanging on the wall, so I soldered to wires onto the switch to later have this on a switch on the painting. I also attached two wires to the mouse buttons to provide some navigational skills later on.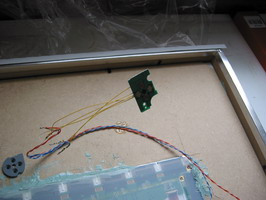 I needed a power switch. Something that was small and discreet, and that could be mounted on top of the frame and be almost invisible. First I looked at the nice little switches on the print layout from the touch pad. They were very tempting, but I didn't want to break the layout as it provided the battery and speakers. Then I remembered that I had an old Casio Cassiopeia from the stone age. This one might have a couple of nice buttons inside of it, and surely that was the case. Taking it out and cutting of the unwanted pieces left me with the cursor key, which has four directions.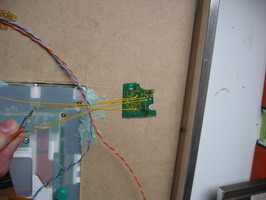 Carefully scraping of the paint on the pcb wires and then soldered the thinnest cables I could find to it. The trick here is to scrape off the paint, solder the copper strip and the wire, but not leave any leftovers. Then carefully putting the wire on the pcb strip and warming it until it sucks on to it. You don't want any solder leftovers as you really don't have the space for it.

The wires are really not well attached and fell of when I started touching them. To prevent this to happen I poured some glue over the pcb to prevent this.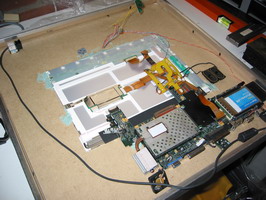 So, we're getting closer. To avoid that thick black power cable I cut it in half and attached both ends to a pair of RJ45 females. (Or/Wh and Br/Wh to be precise) This way I can use whatever cable I have, being a network cable of 10 meters or an orange cable like I later used. The orange cable by the way is the orange cable from a regular cat5 cable.
If you look at the diameter of the inside of the power cable (not on the picture), you'll see that it's about 2mm. The cat5 cable is nothing like that and in normal circumstances using the cat5 as a replacement cable might not be a good idea. But, I don't have a hard drive or any batteries that need charging so I figured that the little power I'll need will come trough just fine on a cat5 pair. But – pay attention to this if you do it yourself. You don't want your power cable to melt huh?
Time to power up on the next page
Digital Picture frame. Second hand laptop. Touch screen, lcd frame. Modern art! eBay. geek, seconhand, used, cheap. Flat panel. LCD Monitor. Plasma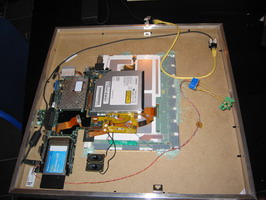 Beta testing. Note the yellow cat5 cable I used to power my walltop. I also mounted the speakers to the backboard rather then cutting them off. Who knows, I might want a boingk on every picture change in the future.

The walltop works fine. Which is fine with me.

Now what I had to do was to cut the paper frame that will be located between the glass and the backboard. Carefully measuring everything I finally got it into place.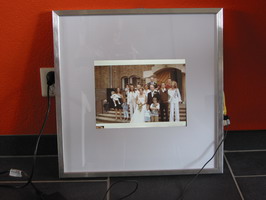 Voila! Done. Finished. And god does it look good. But wait until it hangs on the wall then it gets even better.
Note the almost invisible power cable below the middle painting, and the almost invisible power and mouse button on top of it.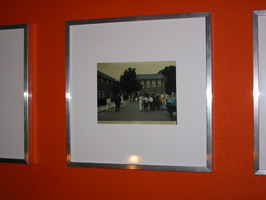 The final result in detail plus the conclusion – and the parts that we're left over – on the next page
Digital Picture frame. Second hand laptop. Touch screen, lcd frame. Modern art! eBay. geek, seconhand, used, cheap. Flat panel. LCD Monitor. Plasma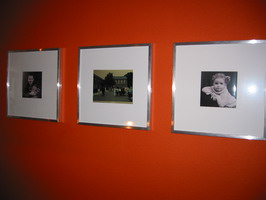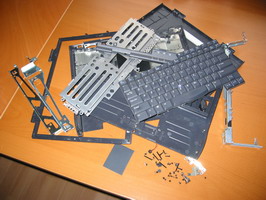 Conclusion. So would I say that I achieved what I wanted with this? Oh, yes. Oh, definitely!

I now have my very own WallTop that is very discreet and completely quiet.

Cost: €21 (€20 for the frame and €1 for the paper frame)

Now, before you go and build one of these yourself – please keep this in mind: Take pictures! Then send me the pictures together with your text on what you did and then I'll post it on a separate success stories page. Use the contact form.

If you don't want to slaughter you favorite laptop then I'm sure you can find a nice second hand laptop at ebay for a small amount.
Digital Picture frame. Second hand laptop. Touch screen, lcd frame. Modern art! eBay. geek, seconhand, used, cheap. Flat panel. LCD Monitor. Plasma