Building a WallTop.
..or How to make use of that old laptop!
..or How to put a laptop inside a regular frame and hang it on the wall!!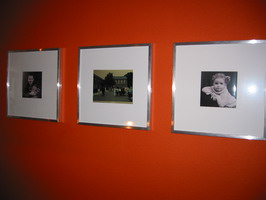 Welcome to my guide on how to convert a laptop into a walltop (that is what is hanging in the middle frame). First, let's clear out the expression walltop. It's comes simply from a laptop that is mounted on a wall instead of being 'mounted' on your lap. In general it could be a laptop just screwed into the wall, but it could also be a laptop converted into something else like a being mounted inside a regular picture frame. And that is exactly what I did.
Starting in the right end of the story, how did I come up with this? Well, I've had an old Dell Latitude CSx (500Mhz 128Mb) that just refused to work on IDE0.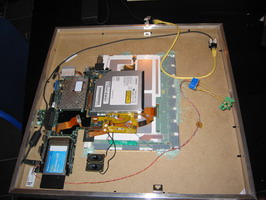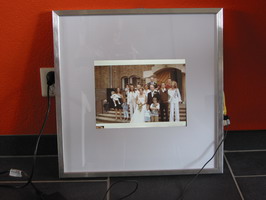 Meaning that using it with an hard drive was out of the question, but the rest was working fine. So, I had this laptop booting on a CD with XPE (Windows XP Preboot Environment) made with BartPE to provide me with the log files from my servers. That was basically it. But it soon took up too much space on my desk and ended up in a corner where it was never used or looked at. But hey – why not take this old laptop, break it down to it's pieces, mount it into a frame and hang it in the living room showing a slideshow?? It's definitely silent as it doesn't have an hard drive. Well, first I was sceptical myself. Power cable and network cable would be difficult to hide, and drilling an hole into my neighbours living room wouldn't solve anything. Hmm, but let's go wireless and replace the original power cable with an thin cable in the same colour as the wall!!
So I did.
On the next page we'll have a look at the software. Not that exiting, but we can't really do without it.
Digital Picture frame. Second hand laptop. Touch screen, lcd frame. Modern art! eBay. geek, seconhand, used, cheap. Flat panel. LCD Monitor. Plasma