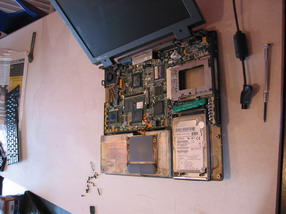 Exciting! Time to assemble the laptop again.
Put back all the parts that are necessary for the laptop to operate and wait with closing it up.
It is vital that you mount the cooling for the processor before trying to turn the power on. The cpu can over heat in a matter of seconds without cooling and then your laptop will be ruined beyond repair.
One thing that I noticed when I put the processor back in its socket was that it (the socket) hadn't had enough time to dry. On this picture
you can see the druplets of water that was present after placing the processor in
the socket and removing it again. I simply had to leave it to dry some more.
Testing if everything works is best done with the AC adapter. This is with two reasons. The first is that the AC adapter can't leave as much power as the battery can and the second is that if something goes wrong then you can unplug the power faster then if you need to remove the battery.


Don't bend over the laptop when connecting the power as 'you never know'! What if it blows up? Then you don't want to have your face there.

I ran my first test without the keyboard connected but you can of course connect this if you want to. When you are satisfied that it's working then put everything back together and that's about it.

But what if it doesn't work?
Well, there can be three reasons.

The most possible is that there's still water somewhere on the motherboard and all you need to do then is to wait another couple of days and then try again. Leave it assembled as on the above picture so that air has free access to it.
Something broke as a result of the initial spillage. Tough luck. That's life.
Something broke as a result of the cleaning. Again tough luck. At least you gave it a try.

As you've already seen the video I don't have to tell you that this actually worked in the end. One thing that I found very surprising was that the speaker in the chassis (which I also cleaned) sounded normal. The fan made some strange noise for the first couple of minutes but after that it sounded ok. I guess that was because there as some moist inside it and that it dried up after these minutes.

The key to success on doing this whole process is time. Clean the laptop as soon as possible so that nothing is allowed to dry up. If it already has then that's how it is and you can still clean it but it's definitely better to clean it while the liquid is liquid so to speak.

And leave it to dry for as long as you can. If you can wait more then 24 hours then do so. It can never dry too much as I myself noticed.

Good luck!