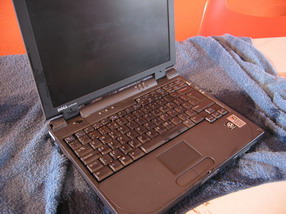 So now you have a laptop which has suffered from alcohol and sugar poisoning and the absolute first thing you need to think about is to disconnect all power sources to not make things worse. E.g. unplug any AC adapters and take the battery out of the laptop.
The second thing you need to keep in mind is that time is not your friend. Many people that have this happening to their laptop will try to 'dry it out' and this is one of worst things you can do. All liquids contain minerals which lead electricity and many liquids contain sugars and other interesting ingredients which of many are corrosive.
You need to get this out of your laptop as soon as possible.
Actually it's quiet simple. Take the laptop apart, which can be a challenge in itself, and rinse the parts affected (no more no less) in tap water and when it's clean rinse it again with distilled water to make sure that the tap water in gone as it contains minerals, chlor and calcium. Let it dry and then assemble it again.