23rd 2006f October, 2006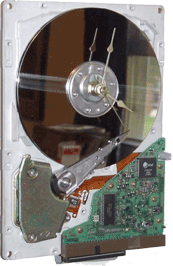 I made one of these back in December last year (link) and then I saw another interesting version from Rick.
OK, everyone has seen the dude who made an LED POV (persistence of vision) clock out of a hard drive, and we're all very impressed (no, seriously). But not all of us have those skills. This is a hard drive clock that requires only a power drill and some basic hand tools. No electronics knowledge is necessary. Total project time: 60-90 minutes.
I think this one is interesting as you can actually see that it's a hard drive. The one I made had a different goal though – to only have hard drive parts visible.
Anyway – I like'em both.
Link: Harddrive clock
[via]
Leave a Reply
You must be logged in to post a comment.
20 queries. 0.072 seconds
print_pg_navigation() ?> Home
---