15th 2006f September, 2006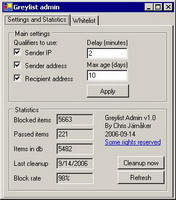 I know – I know – I know. Programs don't really fit into Grynx's profile – but hey – I make'ed something and now I'm sharing it with you. It might not interest you that much if you're not an Exchange admin or have an Exchange server, but that's just the way things are.

Greylist is simply a greylist program for Exchange 2003 ( should work on 2000 ) which will delay incoming mail for a couple of minutes. In my environment it blocks 98% of all spam and so far it hasn't blocked a single 'good' email.
And as I like the whole idea of open source, I'm publishing it just like that – for free. Or rather freeware.

I wrote this as I couldn't find any free grey list programs out there. Lots and lots for free for Linux, but only commercial products for Exchange.
15 queries. 0.080 seconds
print_pg_navigation() ?> Home
---