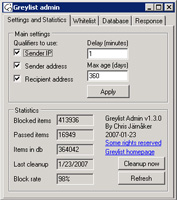 JEP(S), the successor of Greylist has been released at Proxmea.com
The new version includes many new exciting functions (RBL, RWL, Automatic white listing) and gives you a very granular control over how the filter works. And it's still available in a free version!
Go and have a look!.
Introduction
Since I have had a lot of problems with false positives with the black lists that I'm using on my Exchange 2003 server I started looking into another way of filtering spam.
The obvious choice of additional protection fell on greylisting ( you can read more about what it is here ).
The problem with this is that there doesn't seem to be any free products out there for Exchange and as I don't want to set up a Linux box ( yet another box in the rack ) I decided to write one myself.

Usually i receive 3500-4000 spam attempts per day so that means that 70 mails a day are slipping trough. These 70 get matched to a blacklist that is not that aggressive and the result of this is that my spam level has gone down to almost 0% while I haven't had a single false positive yet.
Latest version: v1.3.1 – 19 feb 2007
About the program. It consists of two parts.
Greylist installs as a .dll and connects to the SMTP service's OnInboundCommand RCPT. It reads it configuration from Greylist.cfg and uses Greylist.mdb for logging entries. It also produces a log file in the log directory.
Greylist admin creates and configures the above files as well as controls the settings and the white list.
Requirements:
Windows server 2000/2003
Exchange 2000/2003 or the vanilla IIS service
.NET framework 2.0
(Optional but recommended) Microsoft SQL 2000/2003 or SQL Server Express
Features:
Greylist
Continue blocking for X minutes.
Installs as a cached .dll
Block by Source IP, Sender email address, Recipient address all together or in any combination.
White list (always allow) by Source IP, Sender email address, Recipient address or in any combination.
Clean out entries older then X days on the first session of the day.
Stores data in a Microsoft access database, .mdb or in a MsSQL db.
Logs on error to the event log
Logs all sessions to a daily log file in /log/
Greylist admin
Configures: Block for X minutes, Max age in X days, White list.
Configures which items to use when blocking by Source IP, Sender email address, Recipient address all together or in any combination.
Displays blocked items and passed items in totals.
Displays current items in database.
Displays block rate in % according to all entries in the database.
Manually start cleanup routine.
Configures the database connection
---
New in version v1.3.0:
Greylist
Registered users can now set how Greylist will behave on a blocked item. It can either send the 451 message and then disconnect (default) or keep the session alive and accept more recipients.
Registered users can now change the message Greylist sends out. This is especially great for corporate usage where each company can have a custom message.

For the rest Greylist stays the same for unregistered users.
Greylist admin
Added new tab with controls for Disconnect on 451 and 451 message.
JEP(S), the successor of Greylist has been released at Proxmea.com
Even though Greylist has been succeeded by JEP(S), the download links remain here for reference.
Download:
Previous versions:
Greylist v1.2
Greylist v1.1
Greylist v1.0
For support, feature requests and general chit-chat check out the Greylist forum
For comments like 'Hey – great app!' use the form at the end of the page.
---
What does it cost?
Nada. Nothing. It's for free!
See it as a contribution to a better world
A free contribution! I've released this under a Creative Commonce license, which comes down to that you can use it and redistribute it as long as you refer to me and this site while using any part of my program. The full license is available in the readme file.
But – please consider this especially if your a corporate user –
Register it! It will cost you 50 euro (about 65 USD) and will support the continued development and you'll get access to the customization options for how Greylist behaves on the communication level.
The registration license will be mailed to you as soon as I've registered the payment.
And if your boss wants an invoice – no problem! I'll mail that to you upon request.
The program is distributed 'as-is' and I don't intend to provide any support for it.
But feel free to send me any suggestions to improvements or your own modifications.
Cheers,
Chris