Have you ever been using a webcam in a room with low light? Or have you ever wanted to have a webcam monitoring your dog, driveway or baby? Well, I have – both. Using a webcam in a room with low light usually works bad, and in most cases it doesn't work at all. You can get around the problem in low light by using a webcam with high sensitivity, like the Philips PCVC740k or PCVC840k (they're actually the same inside!). It has a sensitivity of 1 lux which is very little light, and it can be compared to the light from one candle.
But what do you do if you have even less light? Well you can use the an side effect of the ccd (the picture chip inside digital webcams, cameras and cam recorders). They should record the visible light that is found between 400nm and 700nm (more info), but unfortunately (but lucky for us) the catch light all the way up 850-900nm which is infra red. This is solved by the constructors by placing a small IR filter inside the lens.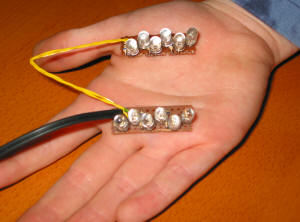 Professional spy cams and night goggles use an infrared light source and then use a camera with high sensitivity without the IR filter and then the camera will record the IR light as visible light. The easy way out for us is to either buy a complete kit, or modify a camera and then buy an professional IR lamp. The problem with this, besides that it's no fun to have a ready solution, is that it's expensive. Very expensive.
So, what I thought was – why not remove the IR filter from my Philips PCVC740 and then build my own IR light source? After all, the IR light source is basically only a bunch of IR
LED's bunched together, and they are just the same as the ones found inside your standard TV remote control! And IR diodes (LED's) are cheap, the one I've used here is the CQY99 which are about €0.2 each. I believe this one is emitting about 11mW and you can find other ones emitting up to 25mW but they will be more expensive (€/mW).
Try this – set up your webcam or digital camera and then point a remote control towards the lens at the same time as you look at the resulting picture on the computer or LCD viewfinder. You will then see a whitish flickering light that where the IR diode is placed. This is a good way of testing if your cam is up to the job.