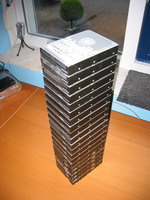 I have 5 Western Digital and 15 Maxtor manufactured between 2000 and 2001 and when they were new they would be sold for $175 a piece. That's $3500 for 200Gb on these disks. Today you can buy one of these new for less then 10 bucks on eBay, but then again – who wants to buy a 10Gb hard drive today?
Sell them?
Forget about it! I can't even get rid of these sad oldies even if I'd give them away…
Use them as an anchor? Sorry, I don't own a boat.
Glue them to the wall as 'modern art' (has been done by the way)? No, I'd only get myself into a divorce.
Do what any maker would to – take 'em apart and be creative? YES! That's what I want to do!!!