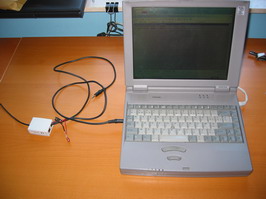 Now comes the fun stuff – tapping! My chat-cord has two cables out, but as we're only going to tap the phone we only want to connect one of them into the line in. If you would want this device to also play sounds back on the phone line, then you connect one to line in and the other to line out. As simple – and flexible – as that.
Thanks to the capacitor and the extra resistor we put a very little load on the phone line. So the device itself becomes 'invisible', and as it's
permanently connected to the phone line it will not be heard coming on and off.
I found this software called
Atropos
from CyTeG. The software is only $25 dollars for the one channel version, and there's also 2 4 and 16 channel versions available. It has a LAN monitor version and a web monitor version, not something I'm going to use but still.
The software is quiet straight forward. It listens to the channels and when the noise goes above the defined noise level then it'll record the sound to a file. Simple as that.
So when someone calls me what it actually records are first a set of DTMF tones for the caller id, then the ring tone (the shortcutted 90v AC signal which is not 0.7v AC) and then later on) the phone conversation.