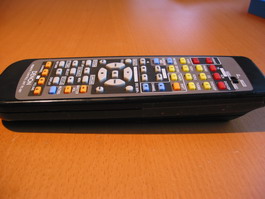 And voila! here's the revived remote control. Sure it looks a bit inconsistent with the colours of the buttons, but I just saved a bit below $100 bucks on this so I think I can live with it.
As I took the remote control apart with force I had to put some scotch tape on the sides to keep it together as the plastic locks inside snapped off. But if you use a thin see-through tape and be careful when you apply it then you don't really see it.
I just need to keep my children from peeling it off
Conclusion:
The volume buttons are as good as new and the tuner buttons doesn't work at all. But that was to be expected, right?
I guess you could also swap buttons that are located in the middle or on the other side, you just need to be more careful and maybe use a Stanley knife instead of scissors.
And as always – if you try this out yourself, then take before during and after photos and send to me.