| | |
| --- | --- |
| The Peltier Beer | By Per Øyvind Arnesen |


While drinking certain dark beers in the sun, I came to think about how to keep the beer cold until I finished it.
Normally this isn't a big problem as I usually finish them before they get warm, but on really hot days this can be a problem. Having some hardware lying around in my apartment, I decided to build something that could keep the beer cool.
Read on to see how I made my own PeltierBeer.
Having an old Caffetiére, a two-way switch and a thermometer is a good start.
| | |
| --- | --- |
| | 8×1,2V rechargeable batteries, a 1U cpu-fan, a 118w peltier cooler, a cold-plate, different types of glue and cables is an even better start (okay, I had to buy some of the equipment). Here we go. |
Next the cooling!
| | |
| --- | --- |
| | |
| These are not supposed to be used on beer, but hey, it might work. | I mounted the cpu cooler in an old Caffetiére stand using "enough" Araldite. |
| | |
| | Araldite needs about 24 hours to dry, so I put it in the oven on 75°C for a couple of hours. |
| | |
| Time to check which side is the cold one, I'm interested in cooling the beer, not cooking it. | Thermal adhesive is quite practical. |
| | |
| | Apply pressure and let dry for a couple of hours. |
Next is the power




Short-circuiting the PS_ON and a Com-connector on an old 300W ATX-power makes a good power source.




These should deliver 9,2V, just enough to power the rig if I should need to go beyond reach of the ATX for a couple of minutes.
I tried to solder the batteries together, but tin will not fasten on acid proof metal.




The old hack with cable and tape should do it.
Carrying this around on an airport should be fun.


Time to hack some cables.
| | |
| --- | --- |
| | |
| The switch is placed so I can go to battery power as quick as possible in case of an emergency. | |
| | |
| One word: Nasty. | Power over CAT5 is quite handy, 20m of network cable should be enough to get me out in the sun with cold beer. |
| | |
| This is connected to the ATX power and a battery charger, I can't use the ATX power to charge the batteries. 11A would cook the batteries. | A thermometer is essential equipment on peltier cooled hardware |
| | |
| | Thanks to my neighbour for borrowing his window. |
Next, testing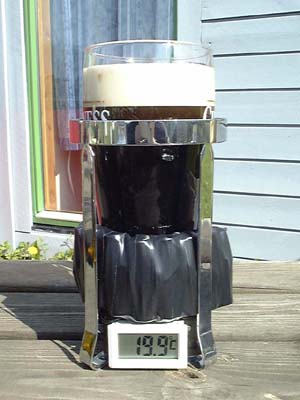 The temperature in the glass was roughly 22°C before I poured in the beer.
The beer is from the fridge and has a temperature of 8°C.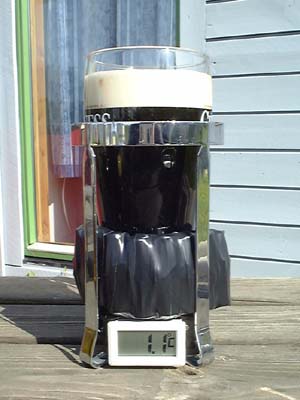 The temperature began to sink after turning on the power, I discovered that the thermometer could not display temperature under 0°C.
The temperature stabilized around 7°C as the heat from the hot side of the peltier element warmed the batteries.
Running on batteries it stabilizes on around 10°C for about 4 minutes.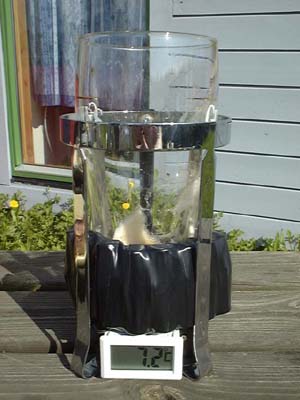 Finally, cold beer in the sun. I think I have earned another.
This article has been reposted with the permission of the author.
The original article can be found
here