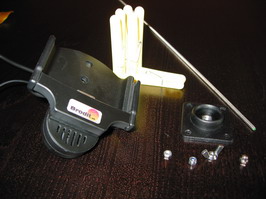 I started looking around for solutions to mount my iPAQ in a nicer way. Basically you have three solutions available.
1. A suction device like the swan neck. No thanks!
2. Screw it into the dashboard or a plate that is attached to the dash board. Nice, but very permanent.
3. Vent mounts, clicks on to the ventilation outlet in you car and can be moved. Yes! Want one of those!!
Nagging as I am, I found two major reasons for why the available vent mounts were not good enough.
1. The stable ones are specifically made for one brand and model of car, so it can't be moved (unless you have three cars of the same model).
2. The movable ones are not stable as they usually only attach at the top of the mount and then lean against the vent at the bottom.
So, I decided to build my own – with the help of some nuts and bolts and washing
pegs. The advantage with using washing pegs are that they're widely available and that they pinch hard and are flexible at the same time. And they are available in all different colours!! That's definitely a plus.