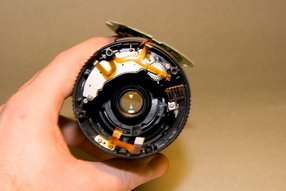 So the process looks something like this: get back mount off, get connector off, connect long cable between connector and pcb, mount connector in back mount, mount back mount on front.
As I had to get into the lens anyway to get the connector soldered off I decided to see if I could fix that front glass problem while I was at it. Unfortunatley a temporary glitch in my brain made me forget to take the pictures of the inside.. Bummer. But basically what I did was to remove the rubber ring on the outside to expose the outer screws and remove them, remove pcb, remove all the motor and gear assembly without taking the gear apart, remove the small metal sensor moving thingy and the steel rod guiding thing. And then I had a lens in pieces in front of me 😉
When the front glass was finally exposed I took… the largest screwdriver I could find in my toolbox and put that next on the plastic next to the glass and hit it. Click, and that was that. The glass slid back into position very nicely.
A note is on its place here. Lenses are very delicate and your mistakes with the lens will show on the final pictures. Your biggest enemy is and will always be dust. It's virtually impossible to open a lens and then close it without leaving dust behind. And some of that dust will most probably not be visible to the naked eye but only show up when you put all of it back together.
If you need to open a lens then you should either have a clean-room, not just a clean room, and all the necessary dust protection equipment necessary – or leave it to the pro's.
Now, if you happen to have a lens like this and want to do it yourself you shouldn't face any issues as long as you don't decide to see what's inside. Just to remove the back mount and place it on the front might be stupid, but you won't ruin your lens at least ;).