Build your own Chat-cord
…or Using your old plain telephone to call over the Internet.
…or VoIP meets POTS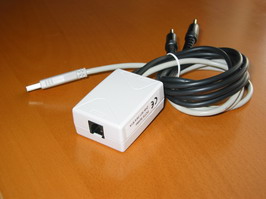 Voice over IP is taking over the world and I also like the idea of calling for free… The problem I've experienced so far is the fact that you always have to use those cumbersome headsets. When it would be possible to use your standard phone for this application, the experience of VoIP would be much more like the real POTS (plain old telephone system). Especially a cordless phone with the base station near the pc would be nice. Furthermore it would be desirable to be able to use your normal phone keys to control Skype (or any other VoIP program).
Christoffer Järnåker actually did a nice job eliminating this shortcoming with his Siemens Skype phone, www.grynx.com/index.php/projects/siemens-skype . The disadvantage of this technique is that you kind of ruin your phone and that the procedure to create this kind of phone is different for every single type of phone.

Not too long ago I ran across a device called Chat-Cord (www.chat-cord.com).
This device does actually the same thing but it is placed between you phone and pc, not modifying your phone. But… This device is pretty expensive and I couldn't get it here in the Netherlands. Furthermore it seemed to me that this device actually isn't very complicated. So, after some internet research I somewhat found out how it worked and identified two difficulties to be solved.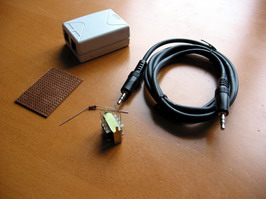 In this article a description is given how to make your own chat-cord. It costs
only like 7 euros. You have to solder some parts but it is very basic and simple.

To be able to use a normal phone to connect to the pc we have to make it look like for the phone as if it were connected to a normal telephone line and this telephone line has to look like it is making a call.

First of all the normal telephone line has a certain voltage, depending on the state of the line. On hook (waiting for incoming calls) is like 60V DC, ringing is 100V AC (roughly 100Hz) and off hook (an active call is going on) around 9V DC. So to be able to use a normal phone to make it think a call is going on, the phone has to see a 9V DC voltage at its input. This can simply be achieved with a 9V battery.

An alternative to this is to power the device from your USB port. It will only provide you with 5v instead of 9v, but this works fine in most cases. You have 300mA to your disposal there and that is more then enough. Just make sure you connect the right wires
On the next page we'll have a look at the actual circuit design.
rapidbox skype adaptor voip voice over ip,Go wireless with Olympia Cordless DUALphone, CyberPhone,skype usb phone rj11 adapter, cordless dualphone, FWD, Skype, Xten, Yahoo, Stanaphone, TerraCall pc mac laptop,VoIPBuster,Free conferance call,Internet telephony with Skype, Skype, , chatcord, VoIP,Voice over IP, save, new,cordless, Free phone calls, chat-cord, IP Phone, Skype compatible, free voip, dualphone, VoIPBuster
The second part is the tricky part. A normal telephone system uses only two wires to send both the microphone and the speaker signal. From basic electronics you might know that you need 2 wires to send a signal, and at least 3 to send 2 signals, because one of the wires is acting as a reference (usually called ground).
In a telephone system both the mic and the speaker signal are multiplexed into one signal. To be able to connect your phone to you mic-in and line-out of your pc you have to de-multiplex these signals.
The solution of Chris was to extract the mic an speaker signal before it is multiplexed inside the phone.
But this can also be done by a transformer (which is also used to prevent the 9V DC from going into you soundcard). The kind of transformer used for this application is a so called secondary centre tapped transformer. Meaning that it has 2 connections at its primary side (where the telephone will be connected) and 3 connections at its secondary side. The middle connection is physically connected to the middle of the secondary coil of the transformer. This middle connector is used as a shared ground for both the mic and the line-out.

Another issue is the input impedance of a phone line. When a phone line doesn't see the right input impedance reflections will occur, resulting in echoes or even in disabling the line. A telephone line has a input impedance of 600 Ohms, so the transformer has to be a 600 Ohm transformer. At the secondary side of the transformer a 150 Ohm resistor has to be placed at the middle connection to make the secondary input impedance 600 Ohm as well, resulting in a balanced transformer.
This all might seem complicated but as can be seen from this figure, the circuit is pretty simple and small.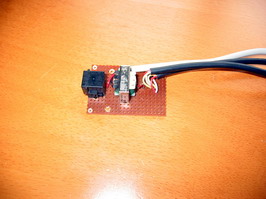 For the connection to the pc jack-plugs have to be used, usually these are
stereo. For the microphone connector the left and right signal can be simply connected to each other at the circuit connection, so actually you make it a mono signal. For the speaker connection one of the left or the right signal
should not be connected because your soundcard stereo output would be shortcut otherwise.
(In most scenarios this won't matter though as the sound from both channels are the same.)
One funny thing is that it doesn't matter which connector you plug into mic or headphones. The result will be the same as we have the transformer
in-between the two cables.
For the telephone connector a RJ11 female connector should be used, so you can attach any phone to your device. Everything can then later be put into a nice little box, and -hey!- let's use a ADSL splitter. It will provide us not only with the RJ11 that we need but also a neat little box.
On the next page we'll have a look at the step-by-step building instructions.
rapidbox skype adaptor voip voice over ip,Go wireless with Olympia Cordless DUALphone, CyberPhone,skype usb phone rj11 adapter, cordless dualphone, FWD, Skype, Xten, Yahoo, Stanaphone, TerraCall pc mac laptop,VoIPBuster,Free conferance call,Internet telephony with Skype, Skype, , chatcord, VoIP,Voice over IP, save, new,cordless, Free phone calls, chat-cord, IP Phone, Skype compatible, free voip, dualphone, VoIPBuster