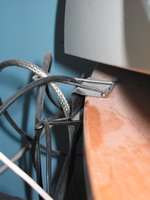 Sometimes you do things and you keep on doing them and you forget that you're actually are doing something special. This is the case with the way that I always organize my cables and a colleague of mine (let's call him Tony as that is actually his name) mentioned the other day 'Hey – what can't I find that on Grynx?'. That's actually a good question… Hence this article.
A large problem today with computers, iPAQ's, iPOD's, laptops and such are – cables.
You have cables next to the monitor and cables behind the desk, cables here and there and cables just simply everywhere.
So you try to clean it up and tie them up with tie strips or Velcro bands, but then they're stuck. And you try to move a keyboard or a monitor and then what happens? You end up cutting up the tie strips or loosening the Velcro bands and reconnecting everything. Not very practical…
And what about all these cables that are not permanent but not temporary?
Like your charger cable for you laptop. You want to have it accessible but still not in the way and in many cases it comes up from behind your desk just to lay on the desk and take up space. And then you try to grab it – and it slides back behind the desk… Not very funny.