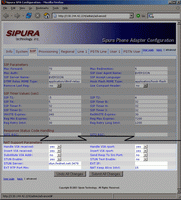 Step 3 – Don't get intimidated, let's log on to the web interface
Now when you have the Sipura's ip address we can log onto the web interface. Simply open your web browser and type http://xxx.xxx.xxx.xxx/admin/advanced, and in my case it would be http://130.144.42.224/admin/advanced. You will get directly into the Info page of the Sipura where you can see what is currently going on.
Don't get intimidated by all the options, there are actually only two screens we need to edit to get it up running. I won't go into detail over what each and every option mean, let's just leave it at what I describe as this is the most common and easiest setup.
Click on the SIP tab and scroll down to the end of the screen. This tab tells the SPA3000 the general options for how it should handle SIP. SIP is in essence VoIP. When you're there you need to change the following options:
Handle VIA received: YES
Insert VIA received: YES
Substitute VIA Addr: NO
STUN Enable: YES
STUN Server: stun.fwdnet.net:3478
Handle VIA rport: YES
Insert VIA rport: YES
Send Resp To Src Port: NO
STUN Test Enable: NO
EXT IP:
Then click on Submit all changes.
The only option that might need some explanation is the STUN server. The definition of it is: STUN enables a device to find out its public IP address and the type of NAT service its sitting behind.
What this means is that, yes, it's a good idea to have it enabled. It will only make your life easier. And the server I've picked here is one with a good reputation and it seems to work fine even though I'm using VoIPStunt. More information about these settings can be found here and here.