8th 2006f February, 2006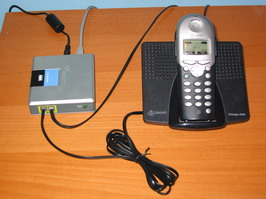 Step 2 – Connecting the SPA3000
I think the picture to the right speaks for itself.
Move the cable that is connected to your phone to the line outlet on your Sipura. Then connect the thin cable that came in the box between your phone and the outlet marked phone. Connect the bigger cable (also in the package) between the outlet marked Ethernet and your network (switch, hub or router), then connect the power adapter.
Another good thing is that the SPA3000 will not interfere with your phone line right now, but it will simply bridge your phone with the phone line. This means that if your wife (maybe I should stop taking my and your wife as the example person?) picks up the phone at this time then it will work just as normal.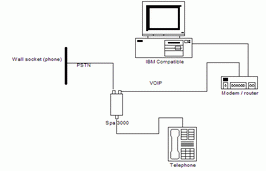 In this setup I will assume that you have a NAT router or firewall setup as this is what most people have today. I'm also assuming that that device will hand out a DHCP address. If you can connect a new computer to your network and it 'just works' then you have this. Again, most people do have this today.
To be able to connect to the administration web interface of the Sipura you first need to disconnect the incoming line. Just unplug the cable from the line port and lift the phone off the hook. You should get a dial tone. Now press four stars (****) and you should here a voice telling you that you're in the Sipura configuration menu. Now press 110# and the voice will tell you the IP number of the SPA3000.
Here is an example recording from my own setup. First I pick up the phone and press **** then after the voice is done I press 110# and the voice tells me 130.144.42.224 which is my IP number.
Tip. If you don't hear the voice after pressing start four times, then press several stars more until you hear the voice.
Leave a Reply
You must be logged in to post a comment.
18 queries. 0.088 seconds
print_pg_navigation() ?> Home
---