The software from Chat-Cord to be able to control Skype with your normal
telephone keys ( www.chat-cord.com/downloads.htm ) works perfect with the
circuitry, meaning that you can make and accept calls with your normal phone (not necessary to be at the pc when you make or accept a call). The only thing you need to do is to assign shortcut keys in Skype to your different contact persons, so you can call them with that number.
Actually all this software does is to convert the DTMF signals from you phone (the different bleeps) to numbers , # and *.

I've tried the circuit with four different phones normal wireless, DECT, and wired and it all works perfect. You have a little bit of crosstalk between speaker and microphone (you hear yourself talking) but this is normal in telephony and it can be decreased with the volume control setting of your microphone (make sure you turn off the mic. boost).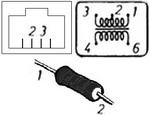 So, let go through the steps in building one of these. I'm going to use a 9v battery as this is more 'fool proof', but if you're confident that you know what you're doing then go ahead an use power from the USB port.
This can either be build on a circuit board (like on the pictures) or like a bird nest. A bird nest means that you solder the wires directly on to each other and it doesn't look as good, but for a small project like this it should do fine.
First cut your pc plug (3.5mm stereo jack cable) cable in half, and strip of the wires. One is going to be used for the mic and the other for the speaker. You can have two versions inside this cable, either (a) with a shield (many small metal threads surrounding the other two cables) and two signal wires, or (2) three signal wires. If you have three wires you will have to figure out which one is ground, but it's usually black or yellow. If you have a shielded cable then the shield is the ground. We'll now have cable (A) and cable (B) looking the same.
Take your transformer and connect pin 1 on the resistor to pin 2 of the transformer. Then on pin 2 on the resistor you attach both ground cables from the pc plug cable A and B.
Connect one of the signal wires from cable A to pin 1 of the transformer. Connect one of the signal wires from cable B to pin 3 of the transformer.
Connect pin 4 of the transformer to pin 2 of the RJ11 plug.
Connect the + from your battery (or USB cable) to pin 6 of the transformer.
Connect the – from the battery to pin 3 of the RJ11 plug.
If you want to use an USB cable as power source then cut it off and strip down the wires. You will have red, back, white, green and a shield. Cut of white and green as we won't be using them. Red is +5v and black is ground. The shield can also be cut off, or if the transformer has a metal casing then you can connect it there. This would provide some extra shielding.
rapidbox skype adaptor voip voice over ip,Go wireless with Olympia Cordless DUALphone, CyberPhone,skype usb phone rj11 adapter, cordless dualphone, FWD, Skype, Xten, Yahoo, Stanaphone, TerraCall pc mac laptop,VoIPBuster,Free conferance call,Internet telephony with Skype, Skype, , chatcord, VoIP,Voice over IP, save, new,cordless, Free phone calls, chat-cord, IP Phone, Skype compatible, free voip, dualphone, VoIPBuster
The following parts are needed for the circuit and the amounts I paid for it are as follows

9V battery
€1.50
600 Ohm – 600 Ohm 1:1 transformer secondary centre tapped
€2.50
150 Ohm resistor
€0.10
Stereo jack cable (cut it in half to be used as mic and speaker
plug)
€2.00
Print board 5x5cm
€0.50

€6.60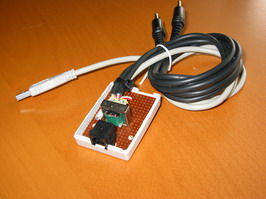 If you can't find a transformer that is centre tapped only at the secondary side
you can also use a transformer centre tapped at both sides and just not use the middle connector at the primary side (I also did this because I couldn't find a transformer centre tapped only at the secondary side). Just make sure it is a 600-600 Ohm 1:1 transformer.
If you choose to use a battery in the circuit, it will last for a long time because no power is extracted from it during a call (otherwise we would be able to extract all our power from the telephone company 😉 ).

Theoretically you need at least 6v to the telephone but USB delivers 5v so what could be done then is to insert an IC that transforms 5v DC to 9v DC (a so called step up converter or DC-DC converter). In most cases the provided 5v will be sufficient, and if not – just hook up a 9v battery
To make it the ultimate calling experience you would also want to make the telephone ring at an incoming call. As mentioned before 100V AC is needed for this. This can be created using a LM555 and a transformer and maybe one transistor. The difficulty is to detect when Skype is ringing… I haven't got a clue how to do this in hardware…
Good luck!!
And have fun Skyping all around the house…
For questions you can reach me at: mr_blond18@hotmail.com

rapidbox skype adaptor voip voice over ip,Go wireless with Olympia Cordless DUALphone, CyberPhone,skype usb phone rj11 adapter, cordless dualphone, FWD, Skype, Xten, Yahoo, Stanaphone, TerraCall pc mac laptop,VoIPBuster,Free conferance call,Internet telephony with Skype, Skype, , chatcord, VoIP,Voice over IP, save, new,cordless, Free phone calls, chat-cord, IP Phone, Skype compatible, free voip, dualphone, VoIPBuster