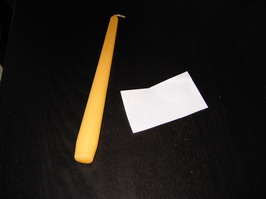 When I grew up in Sweden a common thing to do with the children (that would be me back then) was to build snow lights. As you have a lot of snow, it gets dark at 3pm and you want the children to play outside you would hand them a bunch of candles and send them out to build snow lights all around the house. Later on you would light them up and stand in the kitchen window to look at them.
Well, back then, being a child and everything, it was the coolest thing to see as a well build one can burn all through the night and still be lit in the morning.
Now I have kids on my own and of course this was something I just had to do with them. But – no one here (I moved to the Netherlands a couple of years ago) ever heard of these and they were all amazed of my innovative little product when I lit it in the evening. So if people here haven't heard of them then surly there are more people in the world missing out on some winter time fun with the children.
You can do this as long as the snow can be compressed into snow balls, so between +1 c / 33 f down to -7 c / 19 f or so.