16th 2006f October, 2006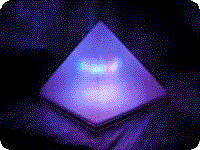 Toon Beerten sent us this wonderful DIY mood lamp.
On this page i will explain how i created my own colour changing lamp with red, green and blue leds that fades between all colours of the rainbow. It really comes out well at night when other light are dimmed. In daylight conditions the colors aren't noticed well. Although it's low budget i must say the result is nice.
Link: RGB Mood Lamp
Leave a Reply
You must be logged in to post a comment.
20 queries. 0.086 seconds
print_pg_navigation() ?> Home
---