7th 2006f March, 2006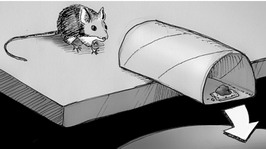 I had a little friend visit my apartment the other week, and for a while there I was ready to make peace with him and co-exist. But after I cleaned up the place and ordered pizza one night, and it crawled up the side of my chair onto the sleeve of my shirt, I knew it was time to bid farewell.
Link: How to catch a mouse
Leave a Reply
You must be logged in to post a comment.
20 queries. 0.077 seconds
print_pg_navigation() ?> Home
---