27th 2006f February, 2006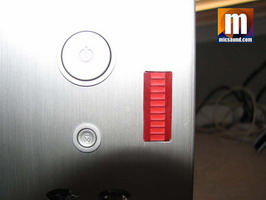 micsaund writes:
On all computer cases I've seen, the HD LED is just a single, boring light. Yeah, maybe it comes in blue or purple on your fancier cases, but it's still just a boring light. I wanted something a bit more flashy and dynamic. For years, I've had a Radio Shack 10 segment LED bargraph floating around in my parts box, since I'm a nerd, I naturally love blinking LEDs (das blinkenlights), so the LED bargraph HD light idea was born!
Leave a Reply
You must be logged in to post a comment.
20 queries. 0.078 seconds
print_pg_navigation() ?> Home
---