25th 2006f February, 2006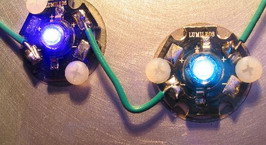 Winter depression occurs when the body is not exposed to enought light in a day. This is a known phenomena especially in regions on the top of the globe. To combat this there are special light boxes that you can buy and put next to your monitor that will expose you to extra light during half an hour a day, but now new research shows that blue light works better and that it's more efficient in the early hours of the day.
So as high power LED's are a hot item right now let's look at a DIY with these beutiful 3w Lumiled's.
Build your own blue LED light box to combat SAD and winter blues. Sleep better and wake up with more energy while exploring the world of high-power LEDs. If 18 watts of LED power isn't enough to wake you, just add more LEDs!
Leave a Reply
You must be logged in to post a comment.
20 queries. 0.079 seconds
print_pg_navigation() ?> Home
---