24th 2006f February, 2006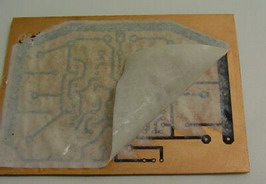 To make your own Printed Cuircuit Boards is something most people never do because it's just way to many steps that need to be done before you have it ready. That thing with UV lights, rubbing symbols and special papers just puts me off. But here's an easier way to do it.
I've read about something similar to this before but this guy has really brought it down to an 'easy' level.

To wrap it up: With your laser printer print your layout on semi glossy paper. Quickly cut out the etch and place it on the PCB. Iron on the paper for 5 minutes pressing hard. Soak the PCB with the paper in soapy water for 5 minutes. Remove paper and then etch as normal.
Leave a Reply
You must be logged in to post a comment.
18 queries. 0.082 seconds
print_pg_navigation() ?> Home
---