22nd 2006f February, 2006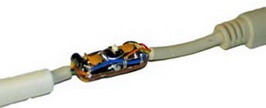 Did you ever wonder what Mr. X is doing all that time behind his computer in the office? Thought of installing a keylogger but didn't dare to as it might get detected as spyware? Then you should get a keylogger which plugs in between the keyboard and the computer. As it's a piece of hardware that only listnens to the traffic from the keyboard it's undetectable.
Try a hardware keylogger instead of a software keyboard logger! This hardware keyboard recorder is system independent, undetectable for software, and installs in seconds (even with the PC off).
…
We present the prototype version of the KeeLogger with full documentation, electrical schematics, and program. Operation of this device is similar to the KeeLogger Pro version, although download is initiated by a special button. Also the DIY keylogger version logs all data on the PS/2 keyboard line, so memory isn't used as efficiently as in the commercial version.
Ok, a device like that would be nice to buy for a mere $32 – but why not build one yourself?
It's easier then you think as they will show you over at www.keelog.com.
Leave a Reply
You must be logged in to post a comment.
20 queries. 0.084 seconds
print_pg_navigation() ?> Home
---