21st 2006f February, 2006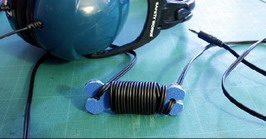 You walk over the floor and something grabs you leg. You fall. That's not that bad… But you also take your laptop with you down. That is bad!

Excess cables is a problem that keeps on coming back to haunt you and we all have our solutions to solve it. I usually make a knot on the excess lenght of a cable or I'll take a piece of velcro.

Intruducing another solution: The Cable Bone.
It's simply a piece of plastic cut into the shape of a bone and both you, your wife and your dog will appreciate it.
There are very few things in life that get right under my skin, triping over cables is one of them. I think I may have seen a product like this somewhere – not sure, inspriation being the mother of invention and these are fairly easy to make.
The full instructions on how to build your own is over at instructables
[via]
Leave a Reply
You must be logged in to post a comment.
18 queries. 0.080 seconds
print_pg_navigation() ?> Home
---