14th 2006f February, 2006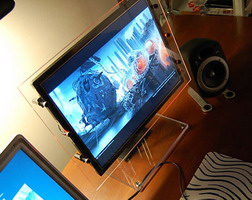 While LCD's are getting more popular there is still one thing that the cheap ones miss. Design. More like a rule then an exception they're plain and simple ugly and this is what Antti was faced with when he got his hands on a cheap one to use with his laptop.
So what does a true maker do then? Rebuild it of course!
He writes
I bought an old 15″ tft display from my friend because the display of my laptop didn't offer enough workspace. This monitor just happened to be too ugly to be tolerated for long. I never had the guts to modify my laptop, so this new screen of mine offered a great opportunity to refresh my building skills. I turned some of my ideas into a 3d model to see how they look. The leading idea was to show the parts of the tft and of course: it shouldn't be too hard to build.
Link: 15″ TFT panel transformed to something more aesthetic
[via]
Leave a Reply
You must be logged in to post a comment.
18 queries. 0.079 seconds
print_pg_navigation() ?> Home
---