19th 2006f January, 2006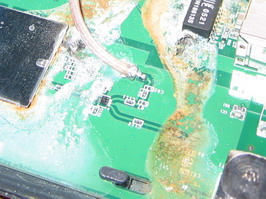 I think everyone has heard about the anecdote about the engineer, the user and the coke – but anyway.
The user calls the support department: "My keyboard doesn't work."
Engineer: "What have you done?"
The user: "Nothing, it just stopped working!"
The engineer comes by with a new keyboard and as he lifts up the old keyboard and holds it against his chest – coke pours out…
This might be an anecdote but accidents still happen and if it's your own stuff then you'd rather fix it then buy a new one. Every dollar saved….

On the picture is part of the PCB from a Linksys WRT54g. Used to be broken – but works fine now after cleaning it.

See how you can Salvage your device after liquid spill
Leave a Reply
You must be logged in to post a comment.
18 queries. 0.086 seconds
print_pg_navigation() ?> Home
---