5th 2006f January, 2006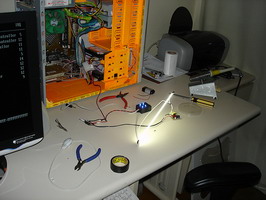 A lot of people pimp their computer chassis with lights and they're actually not that expensive. But why buy one if you have an old scanner (or fax or copier) around that you're willing to sacrofice? Most of them contain a light tube that shines on the paper so that the actual scanner can see what it's looking at. This project in it's essense is to take out the light and the reactor (that makes the light work on 12v) and simply put it inside your computer.
I could thing of a bunch of other applications for this kind of light source would be useful for but this would be the most obvious.
Leave a Reply
You must be logged in to post a comment.
20 queries. 0.086 seconds
print_pg_navigation() ?> Home
---