4th 2006f January, 2006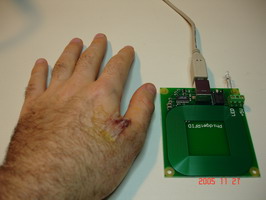 Wearable clothing in all its honor, but Amal Graafstra installed or rather implanted an RFID chip in his hand. I guess this is just the first step to what we all fear is coming – Big brother sees you!!
On his page he has two instructual (!) videos of how to install the RFID tag and an interview with Jimmy Goldstein.
I don't know if I'd dare to do this myself but damn it's tempting..

Here's the project at Electric clothing and Makezine also has an interview with him here.

Leave a Reply
You must be logged in to post a comment.
18 queries. 0.084 seconds
print_pg_navigation() ?> Home
---