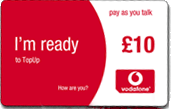 Trick Vodafone to upgrade your prepay phone again and again when travelling abroad
Amsterdam A Dutch anonymous reader contacted us with this scoop regarding a flaw in Vodafone's 'Pay as you talk' system. He has a Dutch Vodafone prepay card, known as Pay as you talk in the UK, and went to Sweden after Christmas. As he arrived he realized that his account was empty and went to a gas station to buy some more credits.
"I bought the equivalent of €20 and called the local number for activating it. That didn't work as I didn't have any credits left, but after a minute I got an sms telling me to call 1200 for the Dutch menus and I got connected. I then entered the 16 digit code that was on the receipt and the lady told me that it would take up to an hour to activate the credits and that I would get an sms when it was.
Patiently I waited over two hours and nothing happened, so I called the number again and entered the 16 digit code and the lady ensured me the same thing that it could take up to and hour and that I would receive an sms when the transaction was completed. Nothing happened.
After another hour I called the same number again and wondered if I had done something wrong so I listened extra good at the options given and after hanging up it stroked me that it actually said on the receipt that the code was the first 12 and the last 4 was the control number. That would explain why it didn't work, so I decided to call 1200 again and choose the option to talk to customer service to correct this problem. Do you know what happened? I called 1200 and got the automated reply that 'You've called this number to many times today. You will now be disconnected.'"
What do you do when you're in a foreign country without any credits to call customer service? Our anonymous reader felt a bit screwed and went over the options, but as he was out on the country side and without any fixed phones available he really didn't know what to do.
Things started looking brighter 5 minutes after that last call as he got an sms.
"To my surprise that sms contained the message that my account was now upgraded with the credits I purchased earlier and I started to forgive Vodafone for stressing me up."
The next surprise came after only 2 more minutes.
"Another sms telling me that my account had been upgraded with another €20 and that I now had a total of €40 on my account.
This was of course a mistake and I expected to have it withdrawn in minutes as the system checked the activation codes and realized that something was wrong. But nothing happened.
I gladly used up my €40 the next day and found myself without credit again. I went to a tobacco shop and bought another €20 and called 1200 (the activation number) three times in a row submitting the same activation code. And I got back three sms's upgrading my account to €20, then €40 and last €60!! I used the same receipt the next day to give myself another €20"
Vodafone seems to have noticed that something was wrong though as after this he got the message 'Service unavailable' when he tried to get to the upgrade option in the menu. When the option came back he had arrived in the Netherlands and after entering the codes the system accepted them but he never got an sms back.
If you try to reach the international upgrade option today then it has been removed and you have to call customer service to activate your international upgrades.
Vodafone has not been tried to be reached for a comment.