26th 2006f January, 2006

Wakazashi and Arkku a has been creative with LED's and made their keyboards 'glow in the dark'. In both cases this mod is on a Mac usb keyboard but as both regular (pc) and usb keyboards use +5v I don't see a problem applying this to any keyboard.
The mod is easy enough for basically anyone to do and could be a interesting beginners project.

Have a look at Wakazashi's version which is more detailed and Arkku's with nicer pictures.
[via]
24th 2006f January, 2006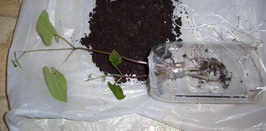 Nerdy as we might be we still need oxygen and that is provided to us by the plants. And plants might not be the most erotic subject for maker's but there is a solution to that – plant them upside down. As a true DIY'er this is just something that you have to spend half an hour to do and I'm sure you can do it with a higher finish then what has been done on this site.

Hey! What else can we plant things in? This brings me to think about my currently still standing Things to do with 20 hard drives project. A plant in a hard drive? Hmm, maybe…

Link: OhCripes
23rd 2006f January, 2006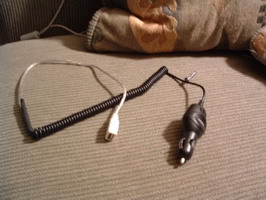 To charge your devices in the car is something that you usually want to do but never actually do. Well, I can only speak from my own experience with an iPAQ charger, phone charger, and iPOD charger and so on. The biggest reason are all these charging devices you need to bring with you and you could fill a plastic bag with them.

This USB charger is not the perfect solution to the problem but what it does for you are to let you use the smaller and smarter USB chargers that take less space. So, leave this USB charger in the car and put the USB dongles in your computer bag and then you can choose to charge you iPAQ or what you have either in the office or in the car.
Anyway, it's a very straight forward project. Have a look.
Create a USB car charger for any iPOD or other Device that Charges Via USB by splicing together a car adapter that outputs 5v and USB Female plug. The most important part of this project is to make sure that the output your chosen car adapter is between 4.75v and 5.25v otherwise you risk damaging your device. Please verify voltage with a voltmeter.
The full story over at Instructables
19th 2006f January, 2006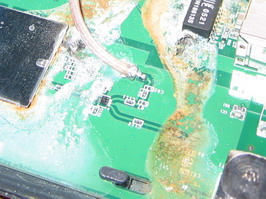 I think everyone has heard about the anecdote about the engineer, the user and the coke – but anyway.
The user calls the support department: "My keyboard doesn't work."
Engineer: "What have you done?"
The user: "Nothing, it just stopped working!"
The engineer comes by with a new keyboard and as he lifts up the old keyboard and holds it against his chest – coke pours out…
This might be an anecdote but accidents still happen and if it's your own stuff then you'd rather fix it then buy a new one. Every dollar saved….

On the picture is part of the PCB from a Linksys WRT54g. Used to be broken – but works fine now after cleaning it.

See how you can Salvage your device after liquid spill
16th 2006f January, 2006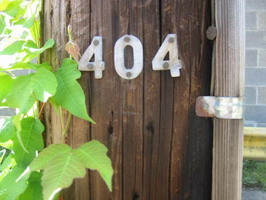 404 – The page cannot be found is a well known term around the net and for the one that is not accustomed with the term it means that the address you typed doesn't exist according to the serving server. The page itself is actually generated by the server so you can put anything you want there – if you're running your own server that is.
One of my favourite 404's are Cannot find Intelligence which at a first glance looks completely normal, but spend a minute or two to actually read the text. Quiet funny actually.
Other interesting 404's are this one or this collection or do a google for 404 images.
This one is also a bit funny.

Have you got any favourites yourself?
9th 2006f January, 2006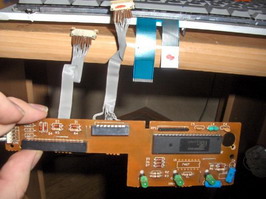 Have you ever felt that your keyboard was to big? I sure have and I've looked at these small replacements your can buy more then a couple of times. Then again, they're expensive and are usually made for people who needs small keys to prevent RSI – not for people who just want a small keyboard. A laptop keyboard on the contrary is small an has a lot of keys so they're more suitable for the purpose. They're also (usually) more quiet.
Lee Char got his hands on an old Compaq 486 laptop keyboard and took upon himself to educate us on how to do this by using the controller from a regular keyboard.

Have a look at the laptop keyboard conversion
6th 2006f January, 2006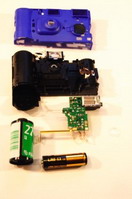 Maybe this is something for Amal when he realizes that his implant wasn't a good idea.
Anyway, this project was awoken as a response to those implanted RFID tags you can find sewn into some clothes. Instead of cutting them out with the risk of damaging you goods this device will send a small EMP pulse to (hopefully) zap the RFID chip or one of it's components to permanently disable it.

Link: RFID Zapper
[via]
5th 2006f January, 2006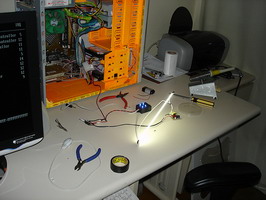 A lot of people pimp their computer chassis with lights and they're actually not that expensive. But why buy one if you have an old scanner (or fax or copier) around that you're willing to sacrofice? Most of them contain a light tube that shines on the paper so that the actual scanner can see what it's looking at. This project in it's essense is to take out the light and the reactor (that makes the light work on 12v) and simply put it inside your computer.
I could thing of a bunch of other applications for this kind of light source would be useful for but this would be the most obvious.
4th 2006f January, 2006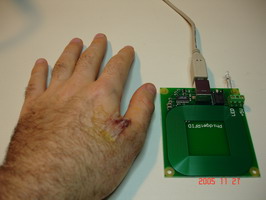 Wearable clothing in all its honor, but Amal Graafstra installed or rather implanted an RFID chip in his hand. I guess this is just the first step to what we all fear is coming – Big brother sees you!!
On his page he has two instructual (!) videos of how to install the RFID tag and an interview with Jimmy Goldstein.
I don't know if I'd dare to do this myself but damn it's tempting..

Here's the project at Electric clothing and Makezine also has an interview with him here.

2nd 2006f January, 2006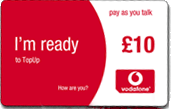 Trick Vodafone to upgrade your prepay phone again and again when travelling abroad
Amsterdam A Dutch anonymous reader contacted us with this scoop regarding a flaw in Vodafone's 'Pay as you talk' system. He has a Dutch Vodafone prepay card, known as Pay as you talk in the UK, and went to Sweden after Christmas. As he arrived he realized that his account was empty and went to a gas station to buy some more credits.
"I bought the equivalent of €20 and called the local number for activating it. That didn't work as I didn't have any credits left, but after a minute I got an sms telling me to call 1200 for the Dutch menus and I got connected. I then entered the 16 digit code that was on the receipt and the lady told me that it would take up to an hour to activate the credits and that I would get an sms when it was.
Patiently I waited over two hours and nothing happened, so I called the number again and entered the 16 digit code and the lady ensured me the same thing that it could take up to and hour and that I would receive an sms when the transaction was completed. Nothing happened.
After another hour I called the same number again and wondered if I had done something wrong so I listened extra good at the options given and after hanging up it stroked me that it actually said on the receipt that the code was the first 12 and the last 4 was the control number. That would explain why it didn't work, so I decided to call 1200 again and choose the option to talk to customer service to correct this problem. Do you know what happened? I called 1200 and got the automated reply that 'You've called this number to many times today. You will now be disconnected.'"
15 queries. 0.086 seconds
print_pg_navigation() ?> Home
---