21st 2005f December, 2005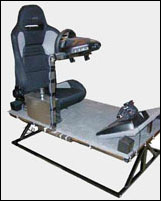 Do you want to build something that scores 9.5 on the geek scale? Wanna have a 'real' force feedback simulator that is as close to the real simulators as possible?
Then have a look at Jared's little project where he uses the classical ingredients as a stearing wheel and the standard pedals, but also a electrical winch for a car…

He writes:
I remember when I was younger taking a family trip to Universal Studios Hollywood. While the experience was overall a snore, there was this one ride that really captured my imagination: Back to the Future. For those who don't know, its a Delorean simulator with a back to the future theme. … For some time I have wanted to make my own, seeing the NASA shuttle simulator and other similar training simulators all over. Well one day while playing mech 4 I realized that I had the power to do so literally in the palm of my hand. So I decided to mod out my simulator. Well a lot of
R & D went into this and this is actually a prototype for the main build to come.
Link: The force feedback racing simulator
Thanks Tom Needer for the tip!
Leave a Reply
You must be logged in to post a comment.
20 queries. 0.083 seconds
print_pg_navigation() ?> Home
---