14th 2005f December, 2005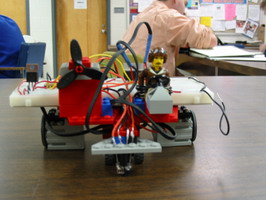 Greg starts with warning us for a long article in this DIY article. And while we're at it have a look at this one also over at ELM, it's really small and neat.
He writes:
…we will start out with a problem and a solution. The problem is going to be to build a Lego robot with sensors, a motor controller, and a microcontroller that 1. Follows a black tape. 2. Upon reaching the end of the tape will pause for three seconds. 3. After pausing for 3 seconds will return back to the starting point.
Link: Line following robot
[via]
Leave a Reply
You must be logged in to post a comment.
20 queries. 0.073 seconds
print_pg_navigation() ?> Home
---