30th 2005f November, 2005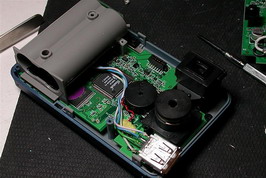 Ok, here's a guy who converted the disposable Dakota digital camera to (1) have a standard USB port and (2) use two of them for stereo photography. Stereo photography in this way is simple and is done by taking two pictures where the second one is taken 5-7 cm to the left of the right one. Then you put the pictures next to each other, and look at them at a close distance while crossing you eyes.
Usually you need to be very steady on your hand when you do this, but as he has two of these converted Dakotas he has mounted them on a rail of Lego (!) and can then take two pictures at one time.

Link: How to make a cheap digital camera
Link: More 3d pictures sorted from all over the world
Link: Guide to making your own 3d photographs.
Leave a Reply
You must be logged in to post a comment.
18 queries. 0.070 seconds
print_pg_navigation() ?> Home
---