30th 2005f November, 2005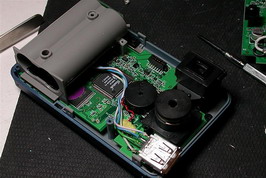 Ok, here's a guy who converted the disposable Dakota digital camera to (1) have a standard USB port and (2) use two of them for stereo photography. Stereo photography in this way is simple and is done by taking two pictures where the second one is taken 5-7 cm to the left of the right one. Then you put the pictures next to each other, and look at them at a close distance while crossing you eyes.
Usually you need to be very steady on your hand when you do this, but as he has two of these converted Dakotas he has mounted them on a rail of Lego (!) and can then take two pictures at one time.

Link: How to make a cheap digital camera
Link: More 3d pictures sorted from all over the world
Link: Guide to making your own 3d photographs.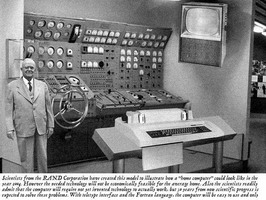 When I grew up in the seventies then the TV series pictured the future computers on the future space ships with a lot of blining lights and bells and whistles. That was of course sooo cool – back then that is.
I found this picture some time ago, and frankly I don't know where it origially comes from, but it must be from the 50's as they talk about '50 years from now'. One thing that makes me wonder though is what on earth they need that big wheel for? It just doesn't make any sense to me…
25th 2005f November, 2005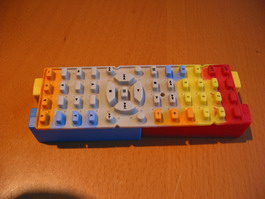 Remote controls are a consumption product. They fall in the floor, the get coffee spilled over them, the get stepped on (maybe not..) – and they wear out.
The second and last one are usually fixed by the handy-man in the house by opening the remote and cleaning it in one way or another. But when it comes to wear then that won't work more then one or two times, then it simply fails.
In this how-to we try to revive your remote by swapping the buttons around. Easier then you think actually.

Link: Revive your old remote
23rd 2005f November, 2005

Now this is an initeresting addition to the two previous VoIP hacks ( the Chat-cord and the Wireless Skype phone ). It's achieving the same as the chat-cord project but as it doesn't use a transformer it's easier to build.
Vitali writes:
You can walk with your wireless phone chatting with Skype friends for free, you can make free call to your mom if she is connected to the Internet. You can make your telephone network with servises, voicemail, etc and chat there using your old phone. Skype wireless phones are expensive, VoIP adapters cost ~$60, but you can make it for free if your have details.. from old TV, Radio or other electronics.
21st 2005f November, 2005

Using an MP3 player connected to the car stereo is cool. Connecting your iPAQ is cooler. But coolest is definitely to play your MP3's through the iPAQ to the car stereo using bluetooth! Completely wireless!
HP's FA303A Bluetooth stereo headset gets slaughtered to get a Bluetooth stereo receiver, then we follow the principal of trial and error and hope that nothing burns before we get the receiver into its box with a 12v power supply and into the car.

And when you have the box ready then you can use it anywhere your imagination takes you. In the car, by the stereo at home or at a friends house, or you can connect it to a high quality headphone!

You will definetly loose your warranty on the headset on this one!
16th 2005f November, 2005

Dan lives in Saudi Arabia and getting a good sector panel antenna there is not easy due to the import restriction. After spending numerous months on the net trying to find a good DIY about building one himself, he found some pages about the Franklin Array design.
Using this as his starting point he finally developed a 2.4 GHz 14 dBi sector panel that he was satisfied with and he has been kind enough to share his findings with us in a nice six page article.
15th 2005f November, 2005

Dan wanted a true outside enclosure for his Wi-Lan equipment that could withstand the forces of nature where he lives.

He writes:
This box will house my proprietary Wi-Lan HP45-24 radio unit and set as a client, a 2.4ghz 500mw HyperLink Amplifier connected to a Linksys WRT54G with a third party firmware and set as an access point, the Wi-Lan HP45-24 radio will be the main link back to my base radio.
The whole idea of this enclosure is to be as "modular" as possible, i.e. if the PSU blows-up i can simply remove the PSU and replace it, OR if i need to relocate the whole box, i can simply unscrew all the antenna and take it away with me.
9th 2005f November, 2005

Rafael writes:
I am unemployed at the moment, but I'm very busy. I tend to work late nights and wander over to bed when I run completely out of steam. The problem is that this happens at a different time every day. I end up being too lazy and stupid to re-set the alarm clock, so I don't bother. I oversleep. Recently I realized that I need a special alarm clock that instead of going off at a particular time goes off after a set duration. Like an egg timer, but grand!.
In a brief DIY he explains how to put this together.
If you're new to programming PIC's then you'll find some links at the end of the article to get you started.
Link: PIC wakeup clock

Everyone (!) knows that vinyl sounds better then CD! Or… maybe not everyone. But there's still a lot of people that really care about the quality of the music and they tend to prefer vinyl to CD's.
The one thing that causes most people to believe that CD sounds better then vinyl is that CD's don't produce that irritating background noise. Well it can be irritating, but the noise is caused by dust and fat on the record and that gets picked up by the pickup – if you don't clean it. Back in the good old days people very often had a fine brush to lift off the dust but they only work partially.
To really clean you record you first need to apply a special cleaning liquid, then brush it with the brush, and last suck off all the dust, fat and liquid.
Chris at Teres Audio made a record cleaning machine to solve this. Less then $50 and you have a professional tool to take care of your old records.

Link: Record cleaning machine

I've had my own webcam standing in the window of my office for the last two years. It's standing there because it's nice, warm and dry. I've been thinking of taking the webcam and putting it somewhere outside but…. then I'll need to buy an enclosure or an outdoor webcam and both of these solutions will cost you more then a bit of money.

Or build your own enclosure like Alek did. Actually he needed it outside at the neighbours house to view his own halloween and christmas decorations!
Add an wireless indoor webcam from D-Link to the mix and you're set.
15 queries. 0.080 seconds
print_pg_navigation() ?> Home
---